After a ransomware virus Hackers got a new way to hack your PC. From Hackers, new way Subtitles can hack your PC.
What is Subtitle Malware?
No one can forget what is ransomware virus? and what this virus did in the whole world?. Those who don't know what is ransomware virus and what this virus had done?. Wannacry Ransomware is a malicious virus that blocks the victim's to access their PC's soo that they can't access their files or data's until they pay the ransom. Basically ransom virus encrypt the files of victim's and can only decrypt if the victim pays the ransom. Till now the ransomware virus hacked too many big companies of all over the world. Therefore researchers are busy in developing fixes for the Wannacry ransomware. Researchers now got tools that have the potential to unlock the locked computers that encrypted by the ransomware virus.
But the research jobs do not end here because according to the Check Point Security, Hackers found a new way to hack our PC's. According to Check Point Security reports now Subtitles Can Hack Your PC. We know that this sounds weird that how can anyone hack PC from the Subtitles files. But It is true, In the  Check Point Security reports they mentioned that hackers can modify a subtitle file to create a new attack which can attack devices like computers, smartphones, TVs, and other devices running unprotected media players.
Why Hackers choose Subtitles files to a virus and Hack PC?
There are two main reasons behind using Subtitles files for virus and use it to hack PCs.
The download rate of Subtitles files from the internet is too high. Because nowadays all the users love to download subtitles files. Therefore Hackers can upload malware subtitle files on a repository and modify the ranking to put the subtitles files on the top so that any user can easily download that virus. and once any user downloads that subtitle file the hackers got a remote access of their PC and can steal their personal data.
Second and the main reason is the antivirus. Subtitles virus files can even pass in your computer if Antivirus is installed in your PC. Because all subtitles files aren't recognized as a threat in comparison to conventional attack vectors.
And according to the Check Point Security:
"Media players often need to parse together multiple subtitle formats to ensure coverage and provide a better user experience, with each media player using a different method. Like other, similar situations which involve fragmented software, this results in numerous distinct vulnerabilities."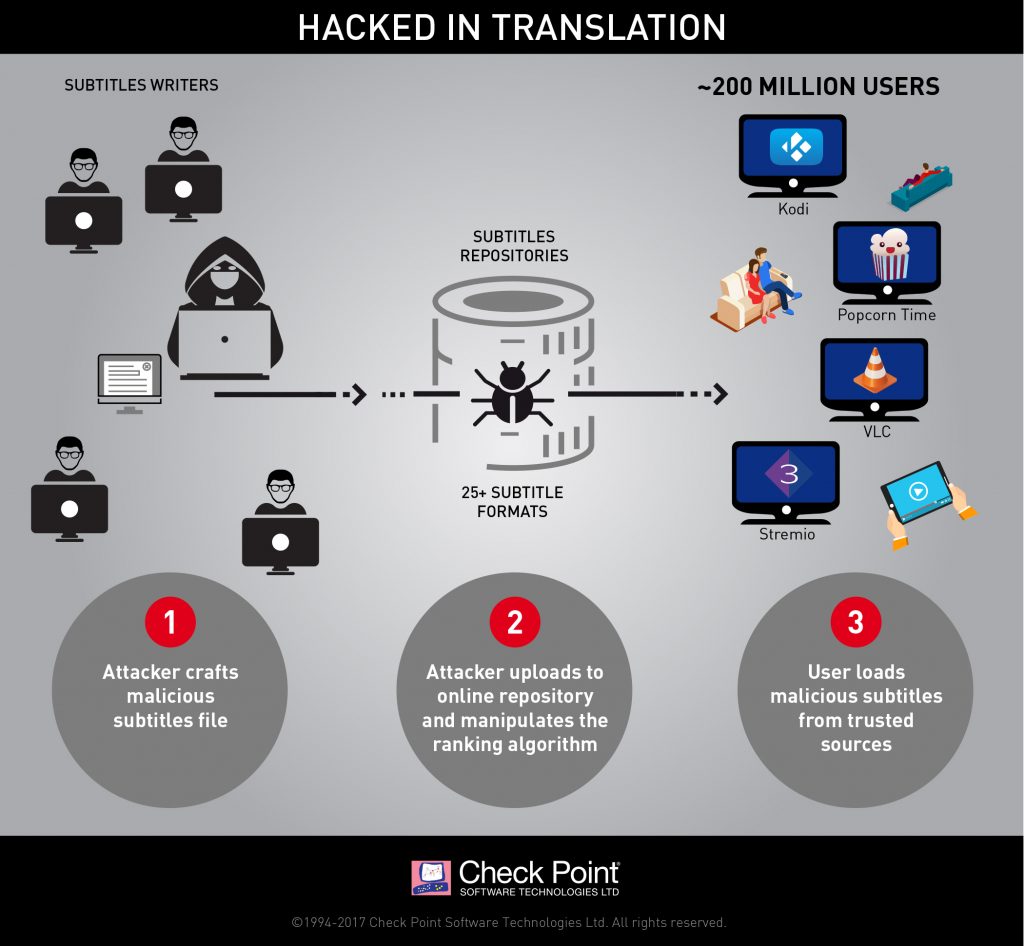 Read More: Extratorrent Is Back with the new Domain
Which Type of Players Are Effected from this Virus?
VLC, XBMC Kodi, Popcorn Time and Stremio some players are affected by this virus. In these affected players VLC have lots of users in all over the World.
And Check Point Security has also shown the Demonstration how hackers can hack your PC using malware infected subtitles files.
Check Point Security Also explained how you can defend your PC being hacked from this virus. According to them
If you are running VLC media player then you need to get the latest version 2.2.5.1 which you can download it from here. If you are using Stremio, get the fix from here.
And the user of Popcorn can download the fix of Popcorn time by visiting this link. Visit this link to get the fix for XBMC Kodi.
So this is all about what is Subtitles virus file? and How Subtitles Can Hack Your PC? Leave a comment what you thought about this virus?